A Tavolata for Sauvages and Claude Barras!
In the charming, picturesque streets of Saillon, the Tavolata party organized by Swiss Wine and the Valais Film Commission (VFC) brought together the whole team of Claude Barras' animated film to share an authentic Valais experience. The long open-air table provided the perfect environment for this celebration of Valais gastronomy, cinema and culture.
Tavolata
The Tavolata is a series of tables put end-to-end outdoors to form a very long table, creating a convivial and festive atmosphere.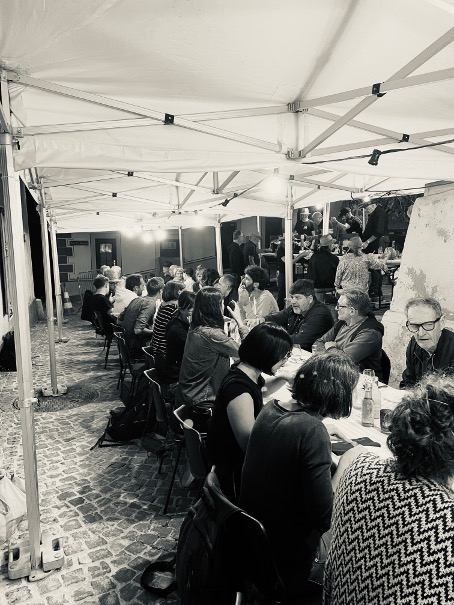 The guests enjoyed a delicious raclette du Valais AOP, highlighting the flavours and local products for which the region is famous. But this Tavolata was not only a culinary experience, it was also the celebration of the first animated film to be supported by the VFC, and the harmonious collaboration throughout.
The evening was memorable for everyone. It illustrated the magic of this region, where majestic mountains, vineyards and a passion for art and cuisine combine to create a unique experience. The evening was a good example of how the Valais inspires and enchants, whether on the big screen or around a convivial table.
We would like to thanks Gérard-Philippe Mabillard and his team who made this possible.
La Vigne à Farinet
Before the Tavolata, Claude Barras had the chance to work the famous Farinet vineyard. He enjoyed harvesting this vineyard full of history and tradition. The vigne à Farinet is the smallest registered vineyard in the world. Every year, personalities from the worlds of sport, politics and the arts come to work here. It currently belongs to the Dalai Lama, who received it from Abbé Pierre, who in turn received it from Jean-Louis Barrault.
More info : https://lavigneafarinet.ch/accueil