Valais Film Commission reflects on its first year.
Sion, 22 August 2023. After a full year in operation, the Valais Film Commission (VFC) presents positive results on the set of the feature film La Nouvelle Illusion. The Canton of Valais and the Confederation have seen the full return of their investment for the Commission's operation from 2021 to 2024.
Positive results.
On the set of its next project, the Valais Film Commission and its board members presented its first-year results. Alongside the producers and director of La Nouvelle Illusion, the VFC highlighted key projects from the past year, discussed their economic impact, and outlined its future ambitions.
In its first full year, the Valais Film Commission has been extremely busy, with over 57 projects benefiting from its facilitation services, seven projects receiving Film Incentive Fund (FIF) grants amounting to CHF 479,842, over 5,000 website visits and an economic added value of over two million Swiss francs for the canton of Valais. Furthermore, the VFC gained international exposure following the selection of the very first VFC-supported feature film, Maxime Rappaz's Laissez-moi (Let Me Go), by the Cannes Film Festival's ACID programme.
"We are thrilled with the results after just one year in operation. It clearly demonstrates the Valais Film Commission's ability to address a gap in Valais' economic activities. These results reinforce the choices that have been made, bolstering the confidence required to invest in future projects," explains Tristan Albrecht, Valais Film Commissioner.
The direct and indirect benefits for Valais are significant. In fact, interest in applications continues to grow (up by 56%) and industry professionals see the benefits of filming in Valais in terms of both facilitation services and FIF funding. The same goes for the local economic, cultural and tourism sectors, who recognise the advantages of collaborating with productions in the canton. Despite Switzerland's reputation as an expensive location, Valais sets itself apart with competitive rates compared to other cantons, as well as its undisputed hospitality. Coordination with production crews is straightforward and simple, which largely compensates for any cost concerns in Switzerland.
La Nouvelle Illusion.
Supported by the VFC, this Swiss feature film was chosen because it represents a bridge between the results of the commission's first year and its future projects. Produced by Brigitte Hofer and Cornelia Seitler (maximage) and directed by Jasmin Gordon, La Nouvelle Illusion is exclusively filmed in Valais, specifically in the Chablais region.
With this film, the Valais Film Commission also wants to highlight the importance of professional training and increase young people's interest in careers in the audiovisual industry thanks to the three young protagonists. One of the cast members is even from Vercorin. "Professional training is a key aspect that we hope to develop in the future, particularly for the industry's technical roles," explains Tristan Albrecht. "While the VFC's primary objective is to facilitate and support filming in Valais, its mid- to long-term aim is to create a suitable environment for the audiovisual industry to flourish in all areas. To achieve that, a focus on professional training and raising awareness plays a vital role."
Valais, a land for films.
Resulting from a shared desire of professional, promotional and political circles to encourage audiovisual productions to film in the canton, the Valais Film Commission seeks to position Valais as a cinematic haven at the heart of the Alps. Through its activities, the Commission aims to increase direct and indirect economic benefits, contribute to the promotion of the canton via the films it supports and develop an audiovisual industry with a focus on local expertise. By offering both facilitation services for production teams and a cantonal economic incentive scheme in the form of an automatic cash rebate system, the benefits offered by the Valais Film Commission are a first for Switzerland.
La Nouvelle Illusion.
In a village out in the wilderness, Jule does her best to be a caring mother, despite her murky past and criminal tendencies. But when she mysteriously disappears from a supermarket car park, her three children have no choice but to make their own way home, unintentionally unravelling the web of lies she has created. Reunited, her family faces multiple threats, but a desperate Jule clings on to her dream of finding a Garden of Eden in this hostile environment. To save her family, will Jule dare to shatter the illusion she has built up for so long? And above all, can Claire, Loïc and Sami free their mother from the crushing weight of her lies?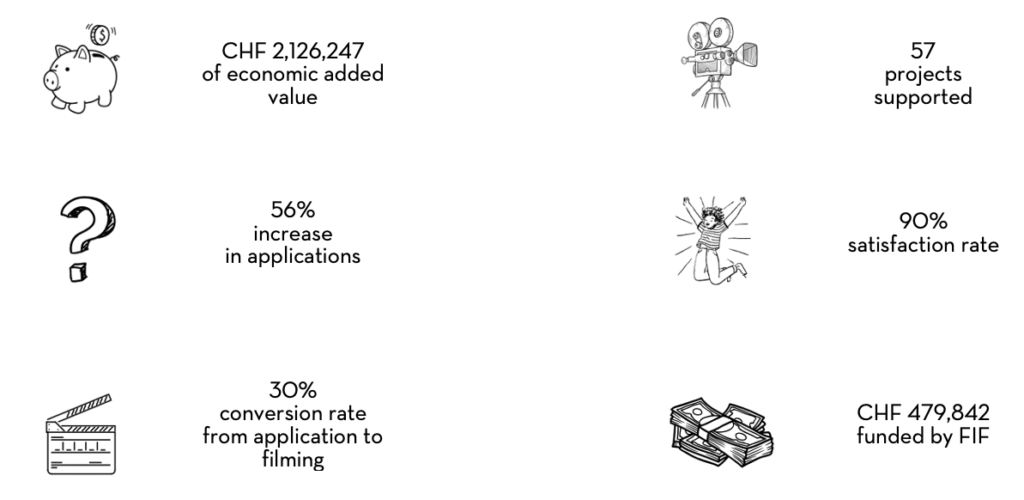 Contact
Press department of the Valais Film Commission
presse@valais.ch, +41 (0)27 327 36 12